Since the days that Brad Linch sold Grit newspapers door to door while in elementary school, he has had a tireless work ethic. He enjoyed making money and watching it grow. At first, it was in the high-interest rate era of his youth, but later, it was his introduction to the stock market during high school which lit a passion that would eventually become his lifelong career. Brad bought his first stock at seventeen (1986).
After graduating from high school, Brad honorably served four years in the United States Army.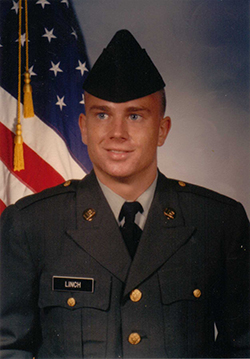 While stationed in Hawaii, he didn't allow the beloved island of O'ahu to keep him from attending college classes and taking CLEP exams for his undergraduate college credits. After the Army, he attended the University of Texas at Arlington (UTA)(1992-1994) and received his B.B.A. While attending UTA, Brad had an internship at Merrill Lynch in Arlington, Texas.
Upon graduation, Brad opened and managed an Edward Jones investment office (1994-1996). From 1996-2005 he was a financial adviser at Prospera Financial Services eventually attaining the title of Vice President of Investments. In 2005, Brad joined First Western Securities, an affiliation which would evolve into his eventual vision. With the encouragement of clients, and a burning desire to expand the scope and depth of investment products and strategies, Brad launched Linch Financial, LLC, a Registered Investment Advisor(2013).